I've been doing a lot of reading this year, thanks in no small part to Audible and Overdrive, which let me read while I am commuting, cooking, and working out at the gym.  So far, I have 46 titles accounted in my Goodreads account, and I am 171 days ahead of my annual reading goal. Granted, at least 10 of those are graphic novels (I had a mild Flash obsession going there for a bit.).
Here are some of my favorites so far this year, in no particular order.
Mr. Penumbra's 24-Hour Book Store  by Robin Sloan – If you love quirky mysteries, Google, Helvetica, awkward protagonists, or glow-in-the-dark dust covers, this is the book for you.
The Stand by Stephen King – The forces of good and evil gather in a post-apocalyptic show down. This was the second of three books in a row that I read that start with a virulent pandemic.  That was not on purpose, and it stressed me out. I could not be an epidemiologist.
The Martian by Andy Weir – Fantastic science fiction.  There's a movie coming out later this year.  I bought a second copy for my Mars themed bathroom.  XKCD described it thusly :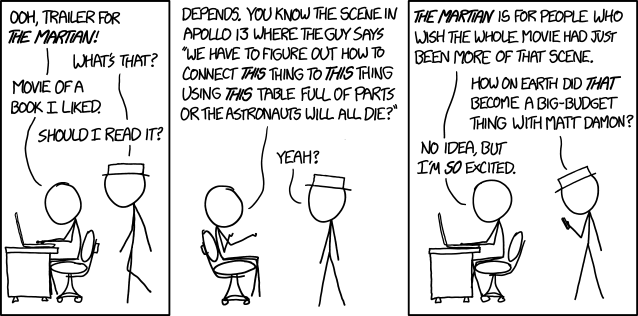 American Icon: Alan Mulally and the Fight to Save Ford Motor Company by Bryce G. Hoffman – This was the story of the first few years of my career at Ford Motor Company.  It was interesting getting the behind the scenes look at some of the things that happened.  It is also a fantastically well written book if you are interested in the auto industry in general.
The Ocean at the End of the Lane by Neil Gaiman – I don't rightly know how to describe this book.  Gaiman writes books that demand to be read but elude description of why you should read them. I put this one off for a long while, but I picked it up and couldn't put it down.
What have you read and loved so far this year?